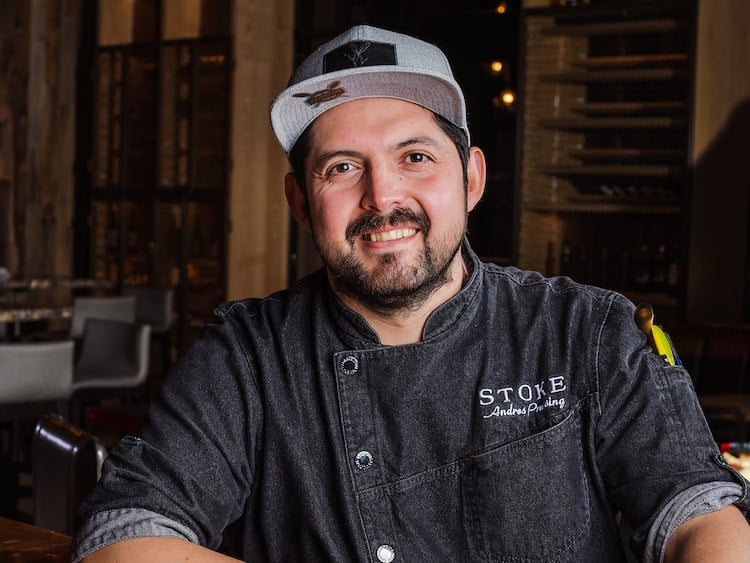 ANDRES PRUSSING, EXECUTIVE CHEF
Chef Andres Prussing brings over 17 years of experience in menu planning, food production, and a solid understanding of culinary needs and a fast-paced environment to Stoke. Chef Andres' culinary passion developed in Santiago, Chile, growing up learning to cook through his grandmother's recipes. He attended culinary school at INACAP in Santiago and graduated with a bachelor's degree in Culinary Arts and Administration. Taking on new opportunities, he moved to the United States in 2010 quickly making his presence known in the Miami food scene before moving to Charlotte.
Influenced by his South American culture, Chef Andres finds inspiration in working with local vendors and bringing fresh, high-quality ingredients to the table and creating diverse and exciting dishes.
Specializing in International Cuisines such as Latin, French and Mediterranean, Chef Andres' expertise and passion landed him in multiple culinary competitions and contests through the years. Winning several medals and titles, such as, 1st place for "Best Hot Appetizer" at the Taste of the Nation Charlotte 2015, Gold Medals at the ACF 13th, 14th and 16th Annual Hot & Cold Food Competition in Myrtle Beach, and Finalist at the NCRLA Chef showdown in 2021 and 2022. Chef Andres' even won the first Culinary "Fight Club: The Perfect Bite" competition held in Charlotte, taking both People CHOICE and Judges selection awards. His accomplishments also include his first two medals: Silver (2006) and Gold (2007) Medal at the Pan-American Culinary Olympics sponsored by WACS in Uruguay, representing his country.
KITCHEN

If the gleaming bright-red heritage Berkel flywheel meat slicer on our countertop doesn't say we're serious about food, we don't know what does. Watch us slice country ham and charcuterie to order as you peruse the chalkboard for our plates of the day. Our double-entry wood-fired oven is blazing from dawn 'til dusk, stoked with different kinds of wood for subtle smokiness and maximum control over the cooking process, making us one of the best Charlotte restaurants in uptown.

Feast your eyes on signature offerings like our slow-roasted whole lamb shoulder or Berkshire pork shank that we cook overnight—we're in no rush. Or nourish your cravings with leafy greens, wholesome grains, and charcoal-grilled seafood and chops.

COMPLIMENTARY PARKING. SERVER TO VALIDATE.